Welcome to Kickstart Monday! This is our weekly series featuring 2 or more crowdfunding projects that have caught our eye. We scour over platforms like Kickstarter, Gamefound, and Indigogo to find projects that interest us.
Our first project this week is Terminus, a kickstarter from insideUp games.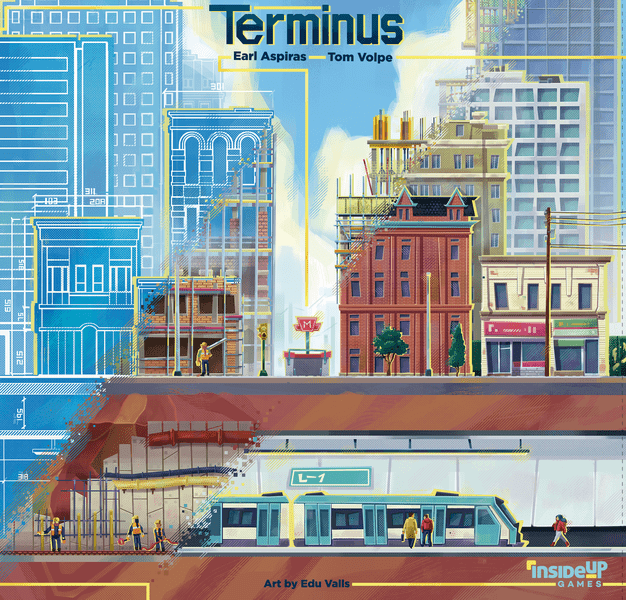 Terminus is a subway building resource management game for 2 to 5 players. In Terminus players take on the role of a transit company building subway routes to connect districts across the city. Players will take actions around what the game calls an Action Loop. Through the 13 available actions in the Action Loop players must manage multiple aspects of their company including construction resources, power and building permits. They will build subway stations and subway lines to meet the changing demands of the city for service to different districts.  Players will also add new developments to the city, fulfill public projects and earn prestige for their personal agendas.
Terminus looks to be a game of higher complexity that would fit well on the shelf with heavier resource management euro-games. The kickstarter edition will feature a number of upgraded high quality components if it meets its stretch goals. The Kickstarter campaign will wrap up on April 25th.
Second up this week is the Kickstarter for Terrorscape from Ice Makes games.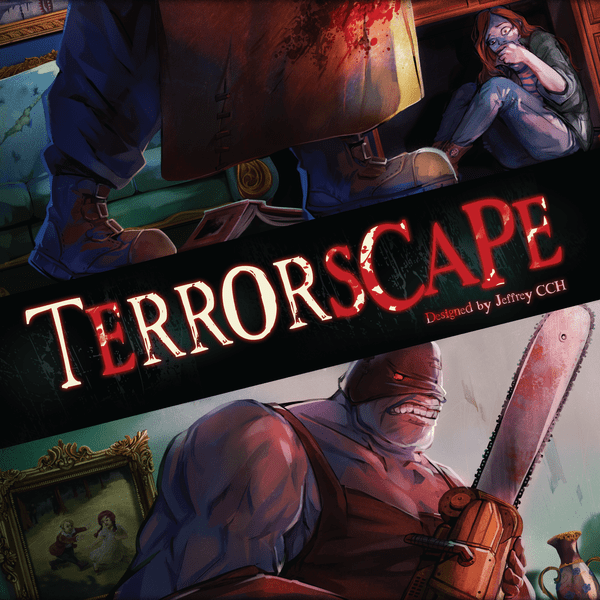 Terrorscape is a heavily thematic asymmetrical actions game for 2 to 4 players that promises to recreate the feel of a horror movie at the tabletop. 1 player will take on the role of a bloodthirsty killer that hunts down the other players to bring them to a grisly end. The other 1 to 3 players must work as a team of survivors to avoid the killer and find a way to escape.
The survivors take on the role of a unique character with specific abilities and strengths to lend to the team. There are five base survivor characters to choose from including The Doctor, The Engineer and the Detective. There are plenty of choices for the killer ranging from your standard chainsaw wielding maniac, to werewolves, aliens and even a monstrous carnivorous plant. Terrorscape features detailed miniatures for each of the survivor characters and the various killers.
Gameplay takes place on a two-sided board with a large mansion structure acting as a screen to hide the survivor's and killer's side of the board from each other. The mansion also functions as a dice tower! The Killer uses a unique deck of cards that provides a different play style to hunt down and eliminate the survivors. Survivors must scrounge for useful items and weapons while avoiding exposing their location to the killer . Because of the screen separating the board the game has the unique aspect that actions are hidden from the other party so that survivors can slip away undetected or the Killer can set a surprise ambush. The survivors will only win if they locate 5 keys that allow them to escape or they are able to survive long enough to wait for rescue. If the Killer manages to find and kill one of the survivors they lose.
While it looks like there is plenty of content in the base game The Terrorscape campaign also includes expansions that provide new characters and killers as well as new maps to play on. Additional upgrades are available for the deep-pocketed backer including deluxe playmats and components. If all this sounds like a delightfully terrifying time you have until May 20th to back this project.
Did we miss your favorite project?
Thank you for checking out this week's Kickstart Monday! If you find these interesting or want some attention on a Kickstarter or other crowdfunded projects that you would like to read more about please share your thoughts with us via our social media or email.
Stay informed when new Kickstart Monday projects come out by following us on Facebook, Instagram, or Twitter and following #KickstartMonday.
Also checkout the latest articles from WiscoDice: