Welcome to Kickstart Monday!!! Fresh off of Gameholecon in Madison, Wisconsin we are back at it today featuring two amazing projects in tabletop gaming. After all, that's what we do on #KickstartMonday.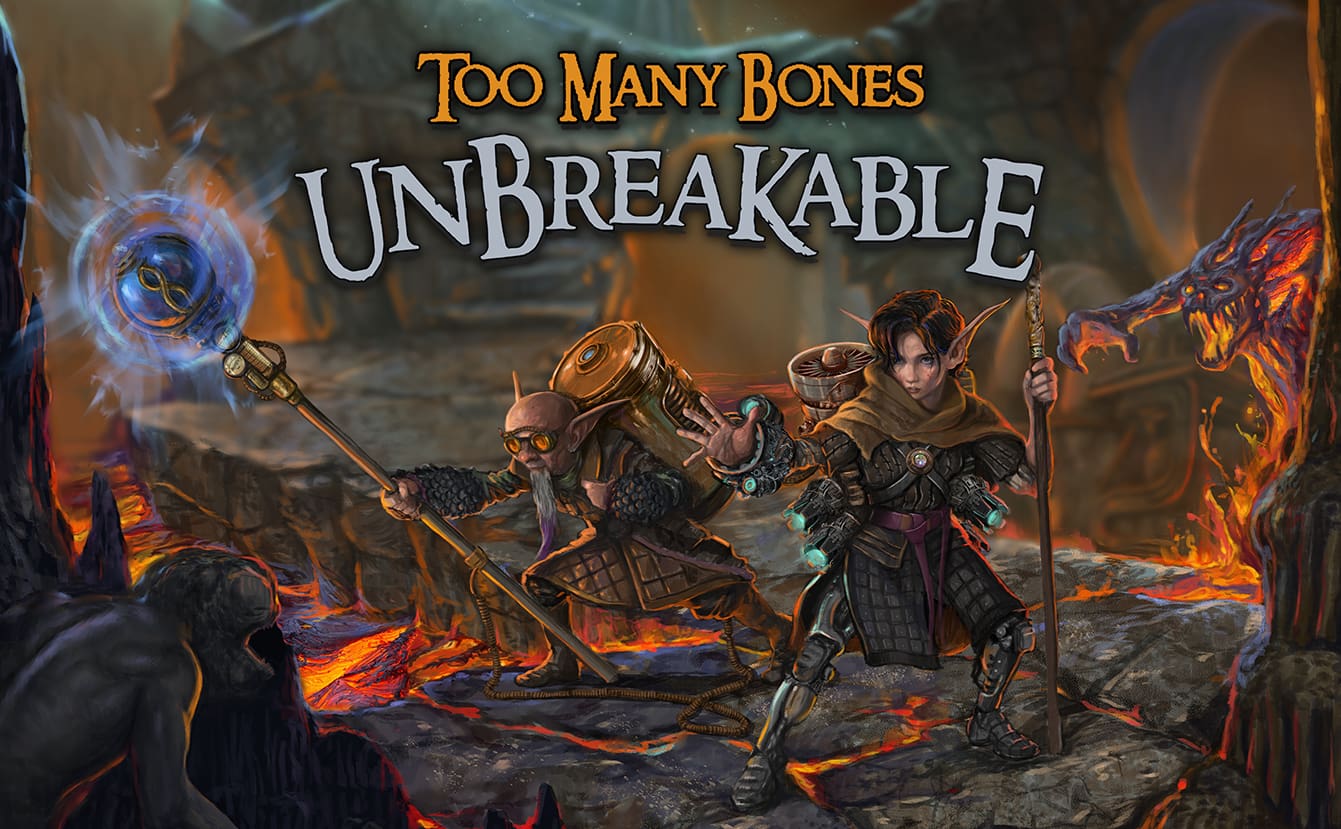 Too Many Bones: Unbreakable from Chip Theory Games is the latest expansion to the ever popular Too Many Bones game. In the game, you play as Gearlocs taking on adventures in a very innovative campaign style RPG experience. Players must overcome various encounters. Some of them are role playing encounters where you are given some options and you must choose what seems to makes the most sense for your character. Others are combat, where your character becomes a stack of poker chips and encounters other stacks of chips that represent the monsters. Each chip has amazing art stickers of what you are encountering on the chips.
In Unbreakable, players of the game will receive new Gearlocs to play, new tyrants to overcome, and new encounters and adventures to go on. Basically, more of the things that make the game so popular. You will be able to now take your battles to the new lava battle mat. This means you better make sure your Gearloc is ready for fiery battles!
If you like adventure games, beautiful art, and an immersive campaign world then you should check out Too Many Bones: Unbreakable from Chip Theory Games! Head over to Gamefound and back this one today.
Edible Gummy Minis for Tabletop Games is from Crawlspaces and Critters and is a very unique project. Your character delves the dungeon, encounters a hoard of goblins. The dungeon master places these gummies on bottle caps on the battle mat. They move about, attacking your character. However, you dash forward taking one down. The DM hands you your reward. A tasty gummy goblin that you get to eat! That's the idea with this Kickstarter project.
If that didn't sound great enough, then you can be a part of this to donate these amazing gummies to the Children's Miracle Network of Hospitals. There is one thing that I am so proud of with the gaming community, it is the amount of charity work and donations so many of us have been a part of. This Kickstarter project is no exception.
I personally had an opportunity to try these gummies at Gameholecon this past weekend. I have to say, these are some of the best tasting gummies I have ever had. The flavors are bright and exactly what you would expect. Grape and pineapple in the ones we tried were flavorful and delicious. The energy from the booth and the excitement for this product really has us excited for these crazy gummy treats.
If you love gummies, have children at your gaming table, or want to donate to the Children's Miracle Network of Hospitals then please take a look at this project and give it your support!
Did we miss your favorite project?
Thank you for checking out this week's Kickstart Monday! If you find these interesting or want some attention on a Kickstarter or other crowdfunded projects that you would like to read more about please share your thoughts with us via our social media or at our email.