Welcome to Kickstart Monday! This is our weekly series featuring 2 or more crowdfunding projects that have caught our eye. We scour over platforms like Kickstarter, Gamefound, and Indigogo to find projects that interest us.
There are certainly some exciting projects out in crowdfunding land. Let's take a look at a couple of games that we think you should check out.
First up this week is Body of Evidence: The Murder Mystery Autopsy Game, a Kickstarter from Mysterious Package Company.
Body of Evidence is a murder mystery game for 1-4 players with a playtime of 2-3 hours. In the game the players will find themselves posed with solving the murder of victim Christian LeClair. The investigation will take the players through a series of case files and they must use their deductive reasoning and sleuthing skills to build a clear picture of the case. Evidence from the crime scene and field work will help the players in their investigation with documents, clippings, and physical evidence guiding the players toward the truth. Ultimately though the players must head to the morgue to perform an autopsy on the body gathering the definitive evidence to prove their case. If the players have followed the clues correctly they will be able to solve the case and confront the culprit.
Body of Evidence features a single pledge level for $37 USD which represents a 10% discount from the retail price. There are also a number of add-ons for other games from Mysterious Package Company. If you are itching to dig in to this mystery find your way to the Kickstarter page and make a pledge before September 21, 2023.
Our second game this week is Fromage, a Kickstarter campaign by Road to Infamy.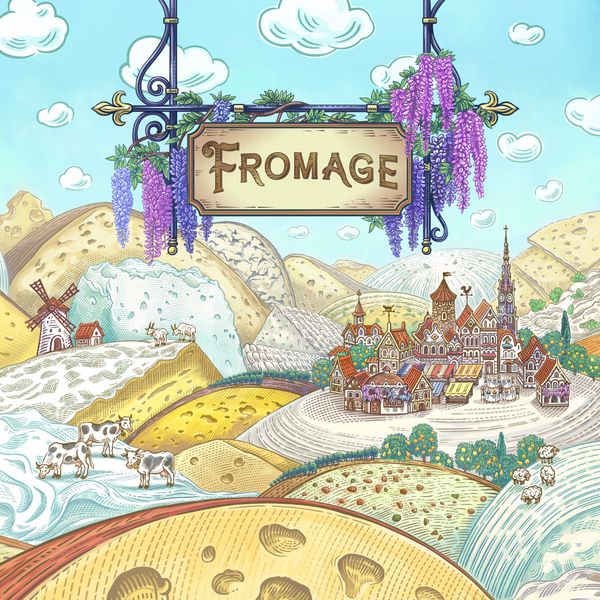 Fromage is a 1-4 player medium complexity eurogame that is all about cheese. As a French cheese maker players will make a variety of artisan cheeses, age and sell them. The game features a unique four quadrant rotating game board that is triple layered which allows for a huge variety of game setups. The game board rotating is also how your cheese ages! During the game players take actions using a simultaneous worker placement mechanic with each player placing workers in the quadrant of the board that is facing them. The campaign notes that this simultaneous worker placement condenses the playtime to around 40 minutes. To run a successful creamery, players must compete in each of the four quadrants of the game board. For example in the festival section players must place their cheeses on display in a connected group to show them off to festival goers while in the Villes section players score points for having the most influence in six different regions of France. Players can also build structures for unique abilities, harvest fruit for specialty cheeses and fulfill orders for extra points.
The campaign has two pledge levels, the standard edition for $35 USD and a limited edition for $49 USD that includes upgrades, wooden tokens and a neoprene Lazy Susan mat for the rotating game board. Make sure to visit the Fromage campaign page before October 10, 2023 to make your pledge.
Did we miss your favorite project?
Thank you for checking out this week's Kickstart Monday! If you find these interesting or want some attention on a Kickstarter or other crowdfunded projects that you would like to read more about please share your thoughts with us via our social media or email.
Stay informed when new Kickstart Monday projects come out by following us on Facebook, Instagram, or Twitter and following the #KickstartMonday hashtag.
Also checkout the latest articles from WiscoDice: