Welcome to Kickstart Monday! This is our weekly series featuring 2 or more crowdfunding projects that have caught our eye. We scour over platforms like Kickstarter, Gamefound, and Indigogo to find projects that interest us.
There are certainly some exciting projects out in crowdfunding land. Let's take a look at a couple of games that we think you should check out.
Our first project this week is the Gamefound campaign for Aberration from Ghostfire Gaming.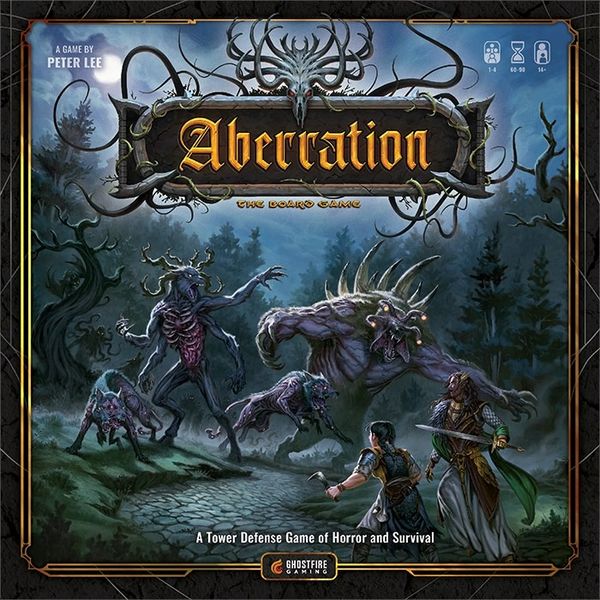 Aberration is a horror themed cooperative tower defense and survival game for 1-4 brave souls. Set in the dark fantasy world of Grim Hollow, players are tasked with defending a village from an onslaught of aberrant monsters. They will take on the mantle of a hero with unique special abilities such as Galgrick, the resilient dwarf warrior or Alwin, the keen sighted elf. The player can then further customize their character by pairing it with one of four different classes: the Monster Hunter, the Martial Artist, the Duelist and the Captain.
Using bag building and worker placement mechanics players will send their heroes out into the darkness to light fires to reveal what lurks in the shadows of the forest. They will encounter aberrant monstrosities of a wide variety and must use their class skills, spells and items to defeat them. Players will draw ability tokens from their player bag of different types: Intellect, Strength, Speed, and Command which are used to trigger abilities of the matching type.
Players must be cautious though because the Great Beast lurks in the forest as well and its corruption can spread across the board and even to the heroes themselves. Becoming corrupted does have its advantages as it requires players to draw aberration cards which power up the players abilities making them even stronger. If one player takes on too many aberrations though the game will end in a loss so there is a risk reward element at play.
The Deluxe edition of Aberration is definitely the focus of the campaign, as it includes all of the detailed aberrant monster miniatures. The Deluxe edition is available for $149 USD. A Standard edition will be available for $79 USD but includes standees for all of the monsters rather than miniatures. You can also pledge for the Spellcasters Expansion as an add-on to either the Standard or Deluxe edition which includes new game scenarios, heroes and monsters. If you feel ready to face off against the monsters that lurk in the shadows, make your pledge for Aberration before October 20, 2023, when the campaign comes to a close.
Our second game this week is Grave Robbers from Outer Space, a Kickstarter project from Other Steve.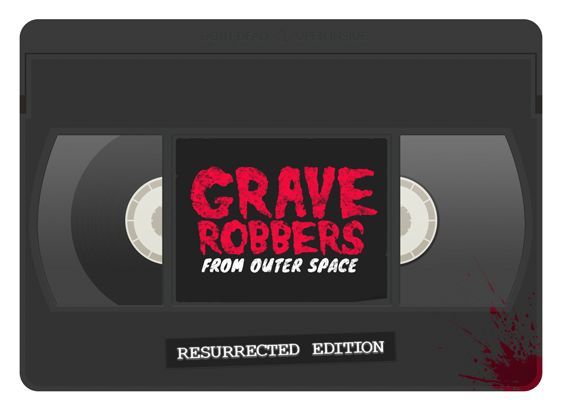 Grave Robbers from Outer Space originally released in 2001, but this Resurrected Edition brings the card game back from the dead along with some content from Grave Robbers 2: Skippy's Revenge and Grave Robbers 3: Suburban Slashers. In Grave Robbers, 2-6 players put themselves in the shoes of a b-movie director competing to create the best film they can.
Players will build a custom deck of 30 cards from 10 different "feature packs" with different themes such as Creatures of the Night, the Shambling Dead, College Slasher and Mad Science. Each feature pack includes, characters, creatures locations, props, special effects and plot twists which are used to put together a movie. Props and Characters are added to your own movie while you can use Creatures to attack other players. Each turn you play cards from your hand by paying their popcorn cost which comes from popcorn icons on other cards already in your movie. Each card can add to your movie score for the end game or grant special abilities to use during the game. 
There are 160 cards included in the game all which feature familiar and hilarious tropes from all kinds of horror and sci-fi movies. There are zombies, killer toys, a cabin in the woods, Ouija boards, vampires and just about everything else you would expect to see in a classic b-movie. In addition, per the Kickstarter, they plan to release 10-12 new themed feature packs every year so there should be plenty of fresh content for the game for quite a while. Grave Robbers from Outer Space is available for $45 USD and there are also a number of bonus add-ons including t-shirts, an expansion, and beta cards. If you are feeling the calling to create your very own b-movie, consider pledging for Grave Robbers from Outer Space before the campaign ends on October 8, 2023.
Did we miss your favorite project?
Thank you for checking out this week's Kickstart Monday! If you find these interesting or want some attention on a Kickstarter or other crowdfunded projects that you would like to read more about please share your thoughts with us via our social media or email.
Stay informed when new Kickstart Monday projects come out by following us on Facebook, Instagram, or Twitter and following the #KickstartMonday hashtag.
Also checkout the latest articles from WiscoDice: