Welcome to Kickstart Monday! This is our weekly series featuring 2 or more crowdfunding projects that have caught our eye. We scour over platforms like Kickstarter, Gamefound, and Indigogo to find projects that interest us.
There are certainly some exciting projects out in crowdfunding land. Let's take a look at a couple of games that we think you should check out.
First up this week we have Lands of the Mesozoic from Pungo games.

Lands of the Mesozoic is a 1 to 4 player tableau building game, set in the time of the dinosaurs. Players will be trying to build and maintain a thriving ecosystem by combining 3 key card types: lands, herbivores, and carnivores. During 3 periods of 7, 6, and 5 rounds, players will play cards from their hand and activate played cards to expand their personal ecosystem. Land cards are played to provide a habitat and food source for herbivores such as the Iguanodon or Apatosaurus. Players will need to make sure that they can provide the right type of habitat for their herbivores for example a player must use both a dry land and water type land card to play the medium sized Iguanodon as well as discard 3 cards from their hand. To keep a balanced ecosystem players will also need to play Carnivore cards. Carnivores are harder to get but will provide the chance for the player to gain victory point tokens. Ultimately the player who managed the best ecosystem, collected the most valuable cards and completed both their individual and common goals will win the game. Lands of the Mesozoic features beautifully illustrated cards from Ukrainian freelance artist Sergey Krasovskiy depicting dinosaurs and animals spanning the Jurassic, Triassic, and Cretaceous periods. The game will also come with a nice custom box insert for card organization. The Kickstarter version will cost $55 USD and include an exclusive 15 card set edition. The Lands of the Mesozoic Kickstarter ends on October 7, 2023 so get your pledge in before the campaign goes extinct.
Next up this week is Everdell Cozy Critters Blankets + Plushies from Starling Games.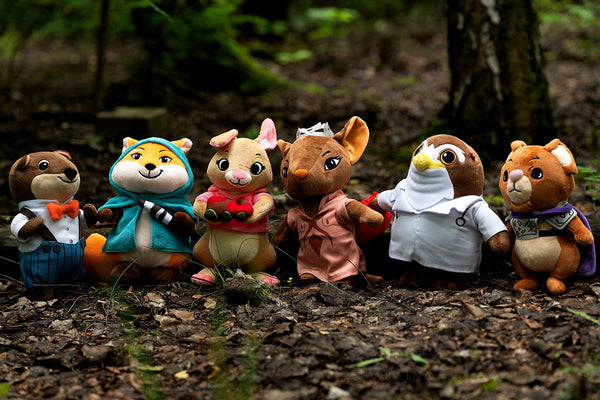 There's a fall festival in Everdell and Terry Hare's general shop is open for business with a host of Everdell treats for sale! The chief offering of the campaign is a series of Everdell themed fleece blankets featuring the lovely artwork of Andrew Bosley. A variety of designs are available with art from Everdell or one of its many expansions. The blankets are 80×60 inches and each one will cost only $19 so you can get one for each member of the family. There are a number of other goodies and addons available through this campaign.
To go along with your cozy new blanket you can pick up one of seven Everdell plushies. At $15 USD you can choose from The Shopkeeper, The Hero, The Toymaker, Queen Amilla, The Doctor, and Fynn Nobletail. Beyond that you can get a hold of just about every Everdell product that has been released to date at discounted prices. This includes the Everdell Complete Collection going for $202 USD. The Deluxe resource vessels which I recommend, are also available for only $25 and are a perfect compliment to the Complete Collection. Everything in the campaign appears to be Ala-Carte so you can add-on and customize to your heart's content. This is your chance to get everything Everdell so make sure to get a pledge in before September 21, 2023 when the campaign ends.
Did we miss your favorite project?
Thank you for checking out this week's Kickstart Monday! If you find these interesting or want some attention on a Kickstarter or other crowdfunded projects that you would like to read more about please share your thoughts with us via our social media or email.
Stay informed when new Kickstart Monday projects come out by following us on Facebook, Instagram, or Twitter and following the #KickstartMonday hashtag.
Also checkout the latest articles from WiscoDice: